Researchers from the Boston University School of Medicine have conclusively found that increased time spent leading a healthy lifestyle during midlife can keep certain diseases at bay and promote good cardiovascular health. By healthy lifestyle, the researchers meant not smoking, eating a healthy balanced diet, regularly exercising, and maintaining healthy body weight and blood sugar, pressure, and cholesterol level. These adults, they noted, had a lower risk of getting hypertension, diabetes, heart disease, and kidney disease or die early. The study titled, "Association of the Duration of Ideal Cardiovascular Health Through Adulthood With Cardiometabolic Outcomes and Mortality in the Framingham Offspring Study," is published in the journal JAMA Cardiology.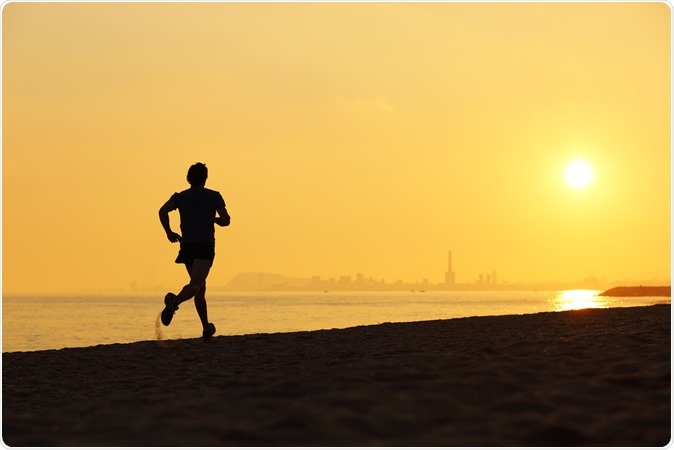 Living longer in better cardiovascular health during midlife may be associated with lower risk of chronic disease or mortality later in life.. Image Credit: Antonio Guillem / Shutterstock
What is the study about?
The researchers explained that the American Heart Association (AHA) had developed a scoring system called the cardiovascular health (CVH) score, and this directly correlated with a raised risk of cardiovascular disease. This study aimed to explore if more number of years spent leading a healthy lifestyle could reduce the risk of disease and death. The diseases the team looked at included diabetes, hypertension, chronic renal disease, cardiovascular disease including stroke, congestive heart failure, coronary heart disease, and peripheral artery disease.
What was done?
This study included 1,445 participants from the Framingham Heart Study Offspring investigation conducted in Massachusetts. The participants were recruited between 1991 and 2015. For all the participants, the CVH scores were calculated at three different time periods – between 1991 and 1995, between 1995 and 1998 and between 1998 and 2001. These examination cycles were thus at 5, 6, and 7th years. The participants were followed up for a median of 16 years and those who had one of the events at the seventh cycle were excluded from the study.
Final data analysis was between April 2018 and October 2019. From the CVH scores, there were three categories – poor – 0 to 7, intermediate scores between 8 and 11, and ideal scores at 12 to 14. These scores were based on several factors such as diet, exercise, and activity, smoking status, blood pressure levels at rest, fasting blood glucose, blood cholesterol, and body mass index.
Results
The average age of 1,445 participants was 60 years, and of these, there were 52 percent women. The results after the seventh examination were;
348 of 795 participants developed hypertension

104 of 1,304 participants developed type 2 diabetes

198 of 918 participants developed chronic kidney disease

210 of 1,285 participants developed cardiovascular disease

300 of 1,445 died during follow up

A total of 568 or 39 percent had poor CVH scores (0 to 7) after the seventh examination

A total of 782 or 54 percent had intermediate CVH scores (8 to 11) after the seventh examination

For every five years of a healthy lifestyle, leading to intermediate or ideal CVH scores led to a 33 percent lower risk of getting hypertension and 25 percent less risk of getting diabetes, chronic kidney disease, or cardiovascular disease compared to those with poor CVH scores. For every five years of leading a healthy lifestyle, the risk of all-cause deaths was lowered by 14 percent compared to those with poor CVH scores.

Age and sex did not influence the effect
Importance and clinical significance
The authors of the study wrote in conclusion, "These results suggest that more time spent in better CVH in midlife may have salutary cardiometabolic benefits and may be associated with lower mortality later in life." They wrote, "Our analysis is consistent with the concept that improving the CVH of a community through individual and societal-level changes might result in lowering morbidity and mortality."
Corresponding author Vanessa Xanthakis, PhD, FAHA, assistant professor of medicine at BUSM and Investigator for Framingham Heart Study said in a statement, "Our results indicate that living a longer period of time in adulthood with better cardiovascular health may be potentially beneficial, regardless of age. Overall, our findings underscore the importance of promoting healthy behaviors throughout the life-course." The team wrote about the impact of this study on the population in general, saying, "On the community-level, this will overall help reduce morbidity and mortality associated with diseases such as hypertension, diabetes, chronic kidney disease and death during late adulthood." They hoped that more people would adopt healthy lifestyle behaviors and stick to them for longer to keep many of the deadly non-communicable diseases at bay.
This study was funded by the National Heart, Lung, and Blood Institute's Framingham Heart Study.
Journal reference:
Corlin L, Short MI, Vasan RS, Xanthakis V. Association of the Duration of Ideal Cardiovascular Health Through Adulthood With Cardiometabolic Outcomes and Mortality in the Framingham Offspring Study. JAMA Cardiol. Published online March 11, 2020. doi:10.1001/jamacardio.2020.0109